Mercoledì, 07 Giugno 2017 14:13
Apro- what it means to me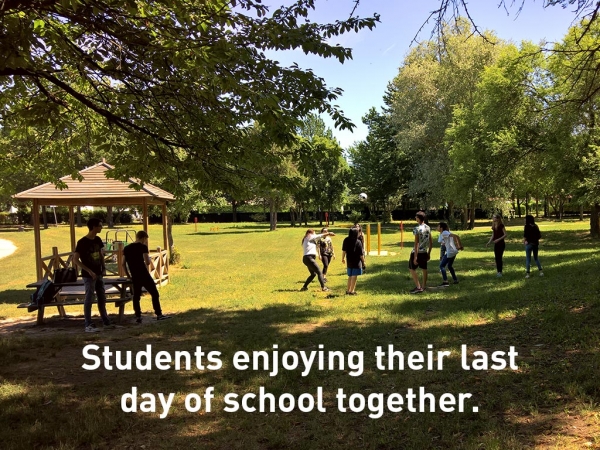 Another school year has come to a close and although we, as teachers, may feel exhausted and relieved, I can also add that most of us feel a bit sad about having to say goodbye  for a few months, or even more, to students who have entered our hearts in a special way.
When I first arrived in Apro, I was quite surprised about the atmosphere I found at the school. I had heard many stories about the school which had misled me to think that it was a very difficult school where most students came to misbehave with no desire whatsovere to learn.
What I found, on the other hand, were a group of students that were the same as other teenagers I had taught before in other schools. Some of them were problematic, demanding and not very willing to work towards an objective. Most of them were not.  I have met some of the most wonderful teenagers in this school. Teenagers who chose a vocational school rather than a typical high school. Teenagers who are in desparate need of attention and at the same time willing to learn something new that will lead them directly to the work field.
I began working in Apro two years ago and although my role as head of the Language department does not give me much time for the students themselves, the little time I have been with them has taught me many things. I have heard so many stories from them, about their lives- I have witnessed so many tears and shared many hugs, but as an English teacher, my goal was primarily to teach them how to communicate in their future jobs, as bar attendants or electricians (my sectors). There have been times when I have had to look beyond the sadness because of family or adolescent problems and focus on my aim at teaching them something that they would take with them for the rest of their lives. It was not easy, neither as a teacher, nor as a mother.
My choice in teaching them communication rather than writing or grammar skills was an experiment. I knew that the kids who had chosen to study in Apro were not expecting to do a lot of writing work, so I created a program suitable for them. I am happy to say today that my experiment has been working,and that even though there may be days when nothing I do seems to be working, I can still say that English has crept into all of their lives, whether they wanted it to or not.
English teaching is all about communication. Being able to communicate with the rest of the world. These kids have so much love in them that it needs to be shared with the rest of the world.
So when people ask me where I teach, I am proud to say that I teach in Apro.A school full of colour, life, experience, and patience. Patience in understanding that not all of us come from easy backgrounds and we all have the right to learn and especially, to be respected for the individuals we are.
One of my students was telling me his story of feeling like an outcast. Of wanting to disappear and not be seen by anyone. I told him what I have learned from my own life. What makes you feel different in a bad or uncomfortable way today will be your strong point in your future. That is because it makes you different from others. And being different makes you special, and that is exactly what you are: special.
I want to wish all of my students a healthy and happy summer with great hopes to see them all back in September ready to begin another school year. Thank you!
Sandra (Prof.Manzone)